julio 14, 2015
When I woke up today…
True history is not written in newspapers nor in court records, but in the heart and memory of the people.
Today July 14, when I woke up, Néstor Iván, son of Máximo and Rocío, had already turned 2 years old, the French Revolution was celebrating its 226th anniversary and in Vienna, Austria, the US and the Islamic Republic of Irán had signed a nuclear deal.
Did you notice all the things that can happen in 24 hours? Kids celebrate their birthdays, people commemorate anniversaries of revolutions… while national and international media corporations turn around all their titles and reviews about deals with the Islamic Republic of Irán. They have even altered their choice of words. It is no longer «Islamic Republic» but simply «Iran». And they do not speak of «pacts», but rather «agreements». Seriously.
The New York Times dubs the «agreement» as «historic» and quotes Obama saying he will veto any attempt to prevent its implementation. So, US Congress, be warned.
Do you think a US judge will perhaps dare to declare the deal unconstitutional? I mean, the Judiciary of the US? It would make a hell of a joke, but keep calm, it is not going to happen. There is more. Headline in The Washington Post: «Historical» «agreement» with «Iran».
I could go on, it is really remarkable. «Agreement» and «Irán». Almost the perfect counterpart of the lines written about The Memorandum of Understanding between Argentina and the Islamic Republic of Irán, of Judicial Cooperation towards the clarification of the AMIA bombing. Next Saturday we will also be remembering 21 years without any arrest or conviction.
The same memorandum that the Argentine judiciary declared unconstitutional preventing us from demanding compliance from the Islamic Republic of Irán.
The same memorandum that received nothing but criticism for being a «Pact» with the Islamic Republic of Irán, defined by the US as a «Terrorist State».
The same memorandum we were accused of using for a hidden agenda.
As I told The New Yorker last March 11: «If tomorrow Obama reaches an agreement with Iran on nuclear non-proliferation, could someone say: 'wait, there is surely another secret agreement signed that will allow Irán to build an atomic bomb to attack Israel or the Middle East'? It is not serious in terms of international policy agreements.»
Well, four months and three days (two to be precise) later, the deal was signed. Not that I'm psychic. I just try to understand the world around us, the issues we have in Argentina and the best way they can be resolved keeping in mind the interests of our country.
It is nothing but my duty as the President.
Today I also thought a lot about Hector Timerman, our Foreign Minister. Also today, July 14, Hector underwent surgery due to a complex pathology. The Memorandum brought him great pains and aggravations. Some Community leaders have gone as far as to calling him traitor.
Everyone knows Hector is Jewish, but first and foremost, he is Argentinian. Like me, I'm a Catholic, but I am first an Argentinian national. There can be nothing more important than the homeland. Without it there is no country, no family, no future. Nor is there Memory, Truth and Justice, three pillars of our government.
Never mind me. But will anyone apologize to Hector? Will Community members use the same harsh terms they used against the government of their own country, Argentina, to refer to the US Government?
Will any Community institution make a court filing in the US in order for the «Pact» be declared unconstitutional?
¿Will they boo or insult the US Ambassador on July 18 at the anniversary of the bombing of AMIA?
Will anyone ask Israel to severe diplomatic relations with the United States? Not likely.
But hey, maybe I will be proved wrong and they will show intellectual honesty, coherence and more importantly, RESPECT FOR THE VICTIMS of the attack, who after 21 years, still have no justice. Nor any constitutional instrument of international judicial cooperation validity to confront the Islamic Republic of Irán.
For what it´s worth, we do continue to call things by their name. And let me tell you that with the current state of affairs, globally and in our own country, that is a novelty. Hence, we deem positive the «Agreement» signed between the US and the Islamic Republic of Irán, along with China, Russia, France, Britain and Germany on the nuclear issue.
The Argentine Government welcomes the agreement reached between the United States and the Islamic Republic of Iran on this country's nuclear program
Moving on, and going back to this special day and the little things that do fill the heart. Today Nestor Ivan, my grandson, turns two years old. Last night I helped him blow out the candles.
Take a look at the invitation for his birthday bash: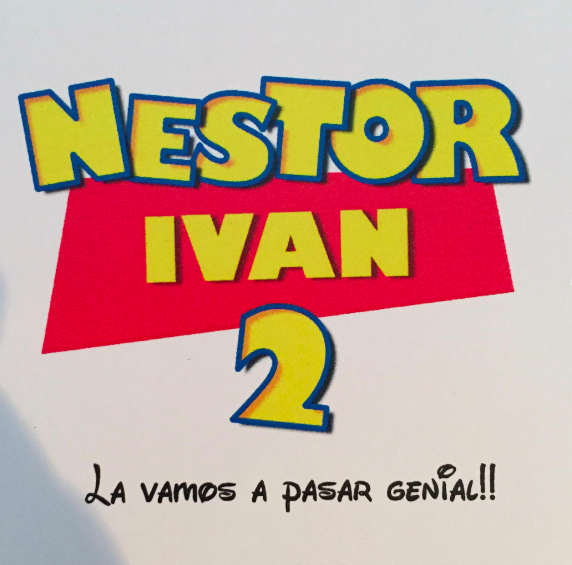 I cannot share the other side of the card, since the time and address of the party are printed there and we would not want Judge Bonadío and (Presidential candidate) Macri´s Metropolitan Police raiding the kids´ birthday.
Although I did tell his mom Rocío, as long as they don´t come for the cake (because these do love cake) there should be no problem.
You might say, but the kid is a two year-old! Surely. But he´s also Kirchner and you know the infamous "Red Circle» – whose identities nobody wants to reveal, but everyone knows – the most powerful economic and media corporations, with the invaluable assistance of unscrupulous "napkin" judges will never forgive …
They will never forgive social transformations, economic and cultural inclusion, independence, sovereignty, much less a country that now stands proud. It does not matter.
True history is not written in newspapers nor in court records, but in the heart and memory of the people.