abril 13, 2015
Address by Hideki Kamiyama, president of Honda Motor of Argentina
Press conference before the event with President Cristina Kirchner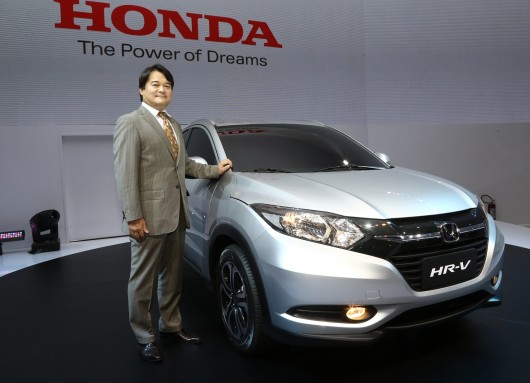 Mrs. President Cristina Fernández de Kirchner, Minister Axel Kicillof, Minister Débora Giorgi, (…) our distinguished guests, good afternoon.
First, we want to thank you for being with us in this great moment of the company.
For Honda Motor of Argentina this is a very special moment because we are materializing one of our big dreams: we are starting the production of the HR-V, the first global model made by Honda in Argentina, and we are also starting to export it. It is a crossover vehicle that opens a new segment of domestic production and a new exclusive category for the brand.
With more than 35 years in this country, we started with activities based on distribution of cars, motorcycles and power products. In 2006 we inaugurated our first motorcycle factory and we have already produced more than 600,000 units. Five years later -in 2011- another historic moment: the opening of our car factory in Campana. Today, we are taking a new step forward. We keep on building and strengthening our history in Argentina.
Commitment, a clear vision of the future and effort are the keys of our work. The road has not been easy, but we consolidated operations in Argentina incorporating new projects, generating new jobs, strengthening our identity, and leaving a sustainable legacy to next generations. Since 2011, we duplicated the ammount of employees -more than 1,200 now-, and we have invested over USD 350 million. Both these history and trajectory allow us to keep growing and betting.
From now on, our annual car production will duplicate, reaching 15,000 units. In the same way, we will increase exports, reaching more than 10,000 units.
With a perfect combination of design, style and comfort, together with the latest Honda technology, the new HR-V will be an excellent value for clients and it will revolutionize the local market.
Undoubtedly, Honda's presence in the country reinforces our commitment and long-term view. And in this conext, 2015 marks a new milestone in our young but pushful history.
It is a great pride for us to share this moment with you, and carrying out a new project like this, the production of a global model in Argentina, launched one year ago in Japan and already a top seller. Today, we can say that we fullfilled one of our big dreams: In 2015, this same model will be launched in Argentina and no fewer that made in Argentina. Undoubtedly, a pride for all of us who are part of Honda in Argentina.
Thanks for being with us and being part of our history.