septiembre 10, 2015
UN approves sovereign debt restructuring resolution
Argentina, with solidarity, has also exercised its responsibility towards other peoples, as well as political responsibility to the global economic order.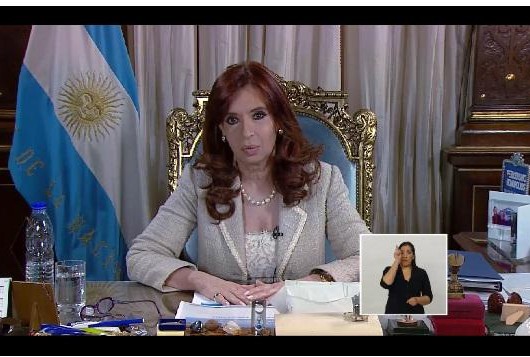 Fellow Argentines, often governments have the primary duty to answer for the needs of their people, the way it should always be. But this time, on the occasion of the resolution just adopted today at the United Nations, on the general principles that should govern – globally – the restructuring of sovereign debt, Argentina has not only exercised its responsibility to their fellow citizens.
Argentina, with solidarity, has also exercised its responsibility towards other peoples, as well as political responsibility to the global economic order.
As a result of our initiative, which found early and rapid acceptance in the Group of 77 plus China, a year ago, a process began that ends today and culminates with this successful vote in UN, the basic principles that will govern the restructuring of sovereign debt of all countries of the world; this vote is the result of what happened to us Argentines.
Having lived through tragedies like we did in 2001, when the world let us hang to dry, triggered this resolution. Fundamentally, the action of vulture funds preying on Argentina and trying also to prey on others countries of the world, has allowed the absolute majority of the representative body, globally, that is 136 countries in th UN supporting these 9 basic principles.
The recognition of the sovereignty of States to formulate their own macroeconomic policies, and to be able to restructure their debts. Sovereign immunity, so that no one will pretend to seize embassies, central banks, or like happened to us, our flag ship, Fragata Libertad. Equal treatment – this is very important – for all creditors. There can be no creditors that receive two bucks and creditors that receive billions for the same bonds by speculative actions after a country falls into default. Good faith to always prevail in negotiations between creditors and debtors and also what seems to me, perhaps, the key to this, majority restructuring, which is also an exercise in democracy. What does this mean? Simply that when there is a qualified majority of creditors that agree on a form of payment, is applicable universally, that is for 100% of the debt.
The Argentina sovereign debt restructuring got acceptance by more than 92 percent of its creditors. In any legislation in the world, in any country, even in the US – which allows municipal bankruptcy – accord with 66 percent of the creditors is sufficient for the agreement to be applicable to all.
We have reached 92 percent and yet a judiciary, in this case the Judiciary of the United States, in the emblematic figure of Judge Griesa, can rule against Law, can twist the wording of contracts, and therefore dismiss another fundamental principle in any negotiation: impartiality. A judge must be, above all things, impartial when deciding between interests and rights of both parties.
Another principle brings to memory former President, Nestor Kirchner, in his first speech at the UN General Assembly as President of Argentina. He said «the dead can pay no debts, let us grow, let us produce so that we can honor our debts.»
This is also contained in the principle of debt sustainability. In other words, no country can pay a debt at the expense of their people without jobs, without education, without health, without salaries, without justice. This is unsustainable and is also included among the nine core principles that from today on, by 136 votes, apply worldwide.
I want to thanks deeply the 136 countries that voted positively; I also thank the countries that abstained. We know the pressures, sometimes the needs of some nations, and still 6 countries are less than the 11 that a year ago voted against this proposal. There will come a day when they finally realize that you can do something truly ugly and bad for the whole of humanity for a short while, but not forever.
So I think that today Argentina has also complied with another imperative, to not only respond to its countrymen and women, by reducing debt like no other government in Argentina has ever done, and by paying the debts of all previous governments but also, too, we have fulfilled our responsibility as members of the international community helping other countries so that they do not go through the same tragedies, the same injustices, the same despair we had to go through.
It is important to do right by our people, but also very important to do right by the global world. Today we have, and Argentina should be proud of what we have achieved here. It was worth so much discussion and debate; it was worth the fight.

Yes, worth the fight. Often you have to fight to defend your people´s  interests, as you fight for your child to continue studying; as you fight every day to keep your job or to increase your salary or to improve your living conditions. Because this is also part of life: the struggle.
Well, we are very happy, very happy and want to congratulate the economic team, the team of Foreign Affairs and, specially, to congratulate us all Argentines, because this is an achievement of the 40 million Argentines for the world.
Thank you very much and good evening to all.