octubre 21, 2015
Video linkup with Vladímir Putin on the 130th anniversary of bilateral relations
There can not be subordination but partnership and cooperation between countries, which is precisely the sense we have given to our strategic agreements.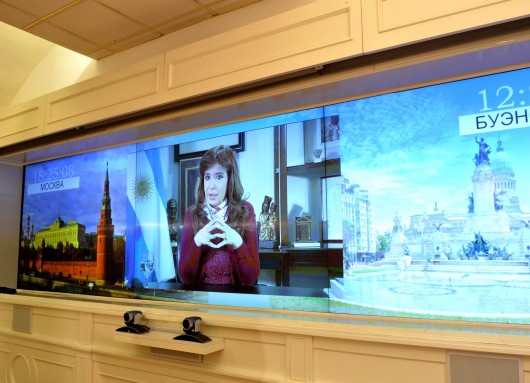 Vladímir Putin: It is a pleasure to see you.
---
Cristina Fernández de Kirchner: It is also a great pleasure for me to have this contact at the time when we are celebrating the anniversary of Argentine-Russian relations. It is really great to connect this way and allow me to say, before celebrating the anniversary of our ties, congratulations on your excellent address to the UN General Assembly. Your speech was maybe unconventional, or out of the ordinary rules of diplomacy, to which we are accustomed because of some countries that say one thing but do another. I liked your sincerity and its result later when you decided to strongly fight against global terrorism.
---
Vladímir Putin: Madam President, it is a great pleasure to see and hear you. I am very happy to have this chance to speak with you, Madam President, especially because today, as you said, is the day when we mark 130 years since Argentina and Russia established diplomatic relations. I note that even in those far-off days, Russians moving to Argentina built excellent traditions of mutual respect and friendship between our countries.
The interlinking of cultures that took place back then helped to bring our peoples spiritually closer together. It was not by chance that the first Orthodox church in South America was built by Russians in Buenos Aires in 1889, and was given the status of Imperial Diplomatic Mission. Argentina is home today to the biggest Russian community in Latin America – more than 300,000 people. I am genuinely grateful for the support of our compatriots and for the fact that you help them to preserve their language and cultural traditions.
The solid foundation we have established in our bilateral relations over past years enables us today to develop with success our strategic partnership and strengthen business, cultural and humanitarian ties for the benefit of our countries and peoples. You have certainly made a personal contribution to this, Madam President. Argentina continues to be one of Russia's biggest partners in the Latin American region. Even at the height of the Cold War, in 1955, Argentina hosted the first USSR Industrial Exhibition in Latin America. Today, we give priority attention to developing our trade and economic cooperation and carrying out big joint projects in sectors such as hydroelectricity, peaceful nuclear energy and hydrocarbon production. There are good prospects ahead in all of these areas. We have already achieved agreements on building a hydroelectric power plant in Argentina. The investment volume will be around $2 billion. Russia's Rosatom is holding talks on building the sixth energy bloc for the Atucha Nuclear Power Plant. Gazprom is starting work on producing, transporting and distributing natural gas in Argentina. Another Russian company, Zarubezhneft, plans to set up production of oil extraction equipment in Argentina, while the Trolza company will be opening an electric bus assembly centre. We have good prospects in agriculture. Argentinian companies are broadening their presence on the Russian market, and we are very happy about this. For our part, we will create comfortable conditions for Argentinian agribusinesses.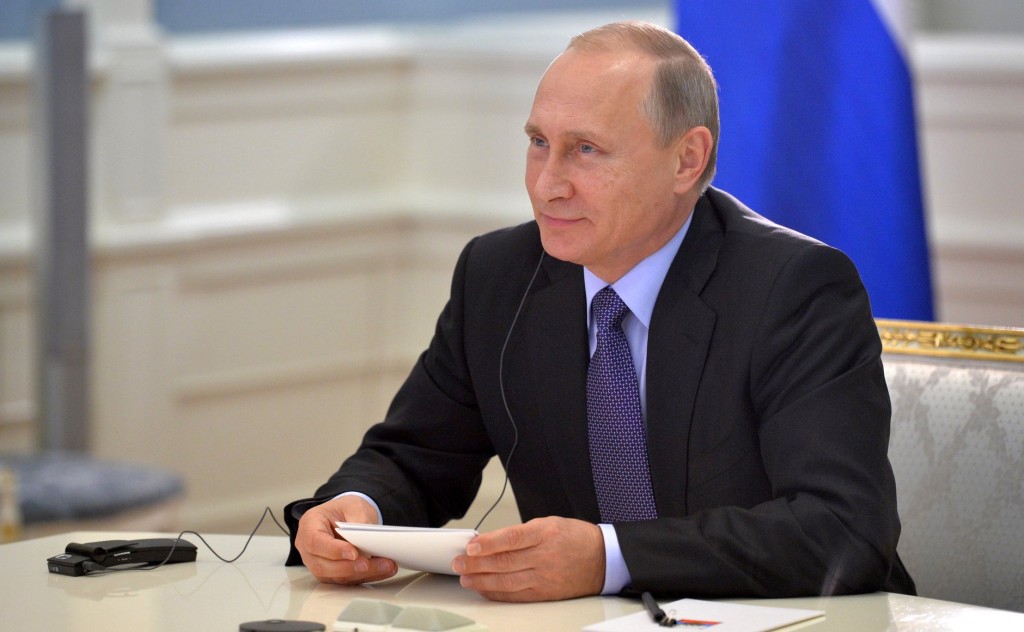 Last year, for example, we agreed on a certificate for importing high-quality beef from Argentina with our partners in the European Union. We are strengthening cooperation in law enforcement. Recently, the Agreement on Mutual Legal Assistance in Criminal Matters was submitted to the State Duma, the Russian Parliament, for ratification. This document's entry into force will help us effectively fight transnational crime. We are seeing good momentum in our cultural ties and contacts. We are holding mutual Days of Culture on the anniversary of our diplomatic ties. In Moscow, an exhibition on Eva Peron, a famous Argentinian public figure, is enjoying great popularity, as is the traditional Argentine tango festival. Incidentally, we recently watched you dancing at a political event. I think it only added to the political landscape of your nation. You did this wonderfully and very elegantly, and I think that it was entirely in the Argentine style. On that note, I would like to say that the Bolshoi and Mariinsky theatres, as well as the Moscow State Academic Symphony Orchestra, recently toured Argentina.
I am pleased that the Spanish version of the Russia Today television channel is becoming increasingly popular in Argentina. We launched its broadcast together more than a year ago. Russia and Argentina cooperate closely in the UN and the G20. Our nations consistently uphold the fundamental principles of international law. First and foremost, these are respecting national sovereignty, non-interference in internal affairs, rejection of terrorism and extremism, double standards and sanction policies.
Madam President, we saw that you and your nation fought for Argentina's interest in the dispute over financial matters. We welcome the Argentinian initiative to develop common rules for justly restructuring sovereign nations' debts. In September, Russia supported Argentina's draft resolution on this matter at the UN General Assembly. As I already said, we share Argentina's firm and principled stand opposing international speculative funds, whose actions are based on decisions by purely national US courts. On October 25, Argentina will hold new presidential and parliamentary elections. I expect that the new Argentinian leadership will continue your course to strengthen the multifaceted partnership ties with Russia. Please allow me to wish you good health and all-around success, and to wish the people of Argentina wellbeing and prosperity. I am very happy, Madam President, that we were able to talk today, at the time when we are celebrating the anniversary of the establishment of diplomatic ties between our nations. Thank you.
---
Cristina Fernández de Kirchner: We have to remember, as you say Argentina is home today to the biggest Russian community in Latin America, your conversation with my Minister of Economy, Axel Kicillof, at the time he revealed his grandfather had come from Odessa and he is also called "Russian". Argentina has a great integration of all immigrations, and Russians made a great cultural contribution to Argentina.
The statement that you made of all the projects that unite us from having formed a strategic partnership between Argentina and the Russian Federation, the hydropower company located in the province of Neuquén, the project of a new nuclear power plant, Gazprom talks with YPF which are advanced and are very important, and also the investments in oil machinery. You know that we have in our country the second largest reservs of non-conventional gas in the world and the fourth of non-conventional oil. All scientific and technological cooperation we can achieve, also the complementarity of our economies. And mainly the view that both countries share of a multipolar world, where there can not be subordination but partnership and cooperation between countries, which is precisely the sense we have given to our strategic agreements. What you also mentioned, our positions at international forums, we have participated at the G-20, at the UN, and also the decisive intervention of Argentina to achieve an international convention, regulations on sovereign debt restructuring. We appreciate the support that the Russian Federation provided us along with the other 135 countries that voted affirmatively at the UN General Assembly so the world puts speculation aside and returns to production, employment, industries, science and technology as the real engines of growth and development. And also our common positions on that there can not double standards in diplomatic relations. And the fight we all give against global terrorism as well.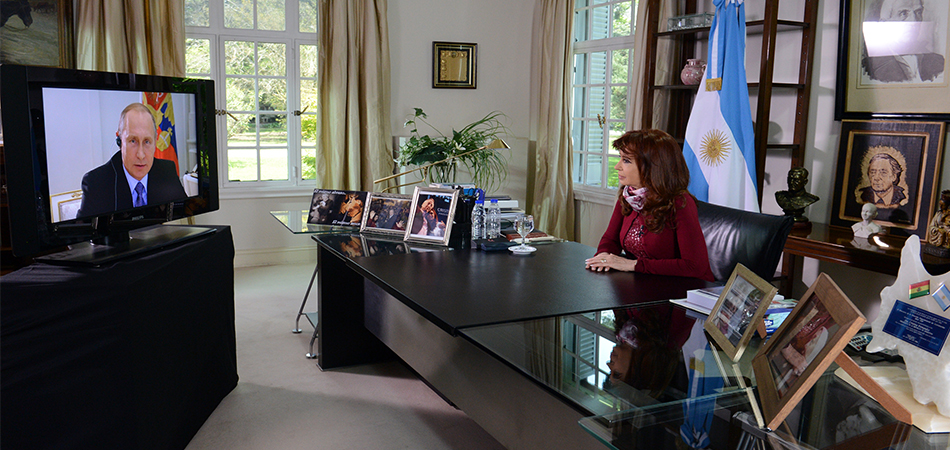 I think partnerships like the one we have established between the Russian Federation and the Republic of Argentina are models to spread to the world, a world that until now was divided between accepting what the most powerful one said, or succumbing. I think this is over, there is now a multipolar world and there are new possibilities.
You also mentioned that our relations are marking 130 years, but I want to remind you that it was the government of President Perón which resumed relations with the Soviet Union, broken since the Russian Revolution. So, the government of Argentina had broken relations when the Russian Revolution occurred in 1917, and it was precisely President Perón, the founder of our political movement, who resumed relations with Russia in 1946.
I also want to congratulate you for the magnificent celebration you made in Moscow to mark the 70th anniversary of the defeat of Nazism and Fascism, in which the Russian Federation had an important role. 26 MM Russians, between soldiers and civilians, died in the Second World War to defeat Nazism. As you said, the exhibition of Eva Perón in the Russian National Museum was very good too. It was a decision of you government, which we also thank. It was there that I saw the exhibition you made about the triumph over Nazism, on the other wing of the museum. That's why I want to celebrate with you the position that both countries have always held for freedom, for democracy and –mainly- a more egalitarian world, multipolar, in which all countries respect the sovereignty of others, with no interference or conditions of any other country. If this is echoed globally, this belief, this type of partnerships, I am absolutely convinced that the XXI century will be much better than what we all lived in the XX century.
I want to say goodbye to you thanking once again for the distinction you have ever had to my country, that I am sure you will continue having. You mentioned next Sunday elections in my country. True, there will be elections next Sunday, and I am sure that the winner will further deepen this integration because he is convinced that we have a different world, we have new partners, what does not exclude others, but that these new partners are as important as everyone else and even more important when meaning cooperation and investments as the one you highlighted, Chihuidos, or the new nuclear plant Atucha 6. So President, this is the road, I am sure that the Argentines will continue on the same road, because they have seen the fruits, then the tree will fruit, and therefore we must continue to grow this tree, watering every day.
A toast to your health, the health and happiness of the people of Russia, and we will probably see each other soon at a new international meeting. So good afternoon. Here it is noon, I have not had lunch yet. Surely I will not have such a great lunch as the one you offered me when I went to the Kremlin, something we do not forget.  I was talking about that with my Foreign Minister, behind the scenes, and we still remember the lunch you offered to the entire Argentine delegation, a sign of affection, respect, and a sign that Argentina is important to Russia. Russia is important to Argentina too. Thanks, and congratulations also for you global role. Thank you.
---
Vladímir Putin: Thanks. Enjoy your breakfast. And I would like to tell that because of increasing supplies from Argentina –during the first six months we imported 2,500 tons of beef- and thanks to our cooperation we have the opportunity to eat very well in Russia, thanks to Argentine food, meat. We know that Buenos Aires is one of the few world capitals where the Mother Russia party takes place, what is a very nice gesture from our Argentine partners. I hope that our cooperation will develop, I look forward to our next meetings. Many thanks.
---
Cristina Fernández de Kirchner: Thanks, President. Keep enjoying the Argentine beef, and let's increase the exports to Russia. Many thanks.