enero 19, 2015
AMIA: Once again tragedy, confusion, lies and questions
The tragedy of the largest terrorist attack that ever took place in Argentina.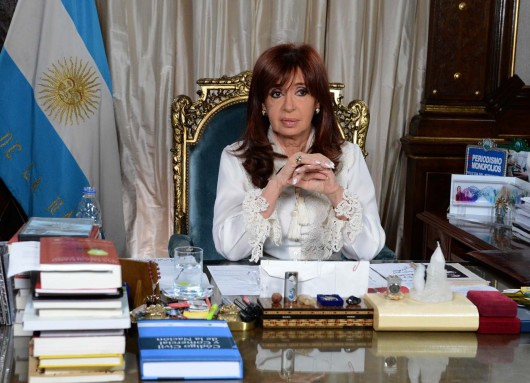 The death of a person is always a painful loss for loved ones, and causes consternation among the rest of us. In the case of a suicide, first comes astonishment, and then questions follow. What can lead a person to take the terrible decision of taking their own life?
The suicide (?) of the prosecutor dealing with the AMIA case, Alberto Nisman, not only causes shock and opens questions, but is also linked to a story that is too long, dense, tough and, above all things, sordid. The tragedy of the largest terrorist attack that ever took place in Argentina.
On a personal note, the case brings back memories of past times which were also tough: On 18 July 1994, I was a Provincial Representative in the Province of Santa Cruz, and a delegate to the National Constituent Assembly in the Province of Santa Fe, representing my own Province. My daughter Florencia had just turned four, and my son Máximo was finishing high school. I used to travel every day to Santa Fe, but that Monday 18th, horror changed all our routines.
Nor can I ever forget that two days after the terrorist attack, I learned in Santa Fe that on 20 July, because of the attack, a Security Secretariat had been created and Brigadier Andrés Antonietti had been appointed as its head.
I must confess that the news of this appointment sent shivers down my spine. I still clearly remembered this person. In November 1980, in the city of Río Gallegos, a clockwork explosive device was placed in the offices of our law firm and the pipes of all the heaters were damaged, allowing gas to flow free and turning our offices into a gigantic bomb, which could have caused a real disaster if it had exploded. It was a miracle that this did not happen.
At the time, I believe, Mr. Antonietti was Deputy Commodore and Deputy Chief of the Air Force of the Province of Santa Cruz. We had had a brief exchange over the telephone which ended when I hung up on him. At that time, our law firm was working on cases against contractors of public works for the Air Force and concessionaires of services for the Agrupación Aérea division. I can still see myself, even after all this time, offering my statement before the Investigator of the Police and gathering signatures to repudiate the terrorist attack.
I can also remember a memorable interview with the then Chief of the Police, Lieutenant Colonel Claro, since security and intelligence were in the hands of the Army then. My conversation with him was tense because of my statements, which involved an Official of another branch of the armed forces and referred to our intention of publishing an open letter. Yes. It may be hard to believe, but back then even open letters to repudiate terrorist attacks were not accepted.
I could have not imagined then (in 1980) that the AMIA bombing would bring Brigadier Antonietti back into my life fourteen years later in the position of Security Secretary of the Argentine people. Even less could I have imagined that in 1996 I would be part of the Bicameral Committee for the Follow-up of the AMIA and Israeli Embassy bombings, as a Senator and later as a Representative.
I participated in the Committee until 2001, always guided by the intention to honour the memory of the victims, discover the truth and bring justice. First, we learned about the facts and circumstances of the tragedy through the stories of relatives, witnesses and other people. Then, the Committee received all types of persons, hypotheses and theories, while contradictions, faults and «mistakes» started to multiply. Subsequently, and in the middle of the presidential campaign, some evidence turned out to be false, while other went missing. In short, confusion, lies, concealment and the «appearance» of new «evidence» became a routinely used method.
Instead of becoming clearer, things became increasingly obscure. Everything was complicated and there was the feeling – at least in me – that we were in a theatre of operations related to national and international politics, in which few were interested in the victims, and even fewer in finding the truth. This was what I declared when I offered my statement as a witness in the oral proceedings.
Tension was mounting and so were arguments, and my suspicion that there was a «fabrication of a trial» grew stronger until it became a certainty. Then a key event took place – the memorable meeting at which Claudio Lifschitz, former Clerk of Judge Juan José Galeano, gave an account of the serious irregularities committed by the Judge and several other officials.
This statement lasted for hours, and suddenly it was as if all the pieces of a puzzle that seemed impossible to solve were finally put together in order to reach a single conclusion: We were faced with the largest material and procedural fraud in memory. The statement was so important that it gave rise to a second trial, this time for aiding and abetting, against the officials who served during the time of the bombing.
I could recount many events and discussions, but it can all be summed up in the third report of the committee, which I signed alone and in complete dissidence, affirming one thing – that I had no more doubts. None of Judge Galeano's actions would stand the test of an oral and public trial. It is known that anything can be written or invented on paper, but when it comes to evidence, things are different.
Unfortunately, I was not wrong. In 2004, Federal Oral Court No. 3 literally demolished the files of Galeano and the main proceedings went back to square one.
In 2000, however, a complaint for aiding and abetting was formally lodged based on the public statements of Mr. Lifschitz. The case remained frozen for years and the acting Judge, Claudio Bonadío, was removed from the case, which was assigned to Judge Lijo. Today, almost fifteen (!) years after the lodging of the complaint and twelve self-discharged judges, it is believed that the oral and public trial could «possibly» (note the inverted commas) commence in June 2015.
The accused are:
1- Juan José Galeano (former judge). He is accused of embezzlement, misappropriation of public funds, coercion, misrepresentations in public documents, abusive deprivation of liberty, aiding and abetting, violation of evidence, and breach of public duty.
2- Hugo Alfredo Anzorreguy (former Secretary of Intelligence). He is accused of embezzlement, aiding and abetting, abuse of authority, and misrepresentations in public documents.
3- Eamon Gabriel Müllen and José Carlos Barbaccia (former prosecutors). They are accused of abusive deprivation of liberty, embezzlement and coercion.
4- Carlos Alberto Telleldín (chop shopper), Víctor Stinfale (lawyer), Ana María Boragni (partner of Telleldín), Rubén Ezra Beraja (former President of DAIA), and Patricio Finnen (former SIDE agent). They are accused of embezzlement.
5- Carlos Saúl Menem. He is accused of aiding and abetting, misrepresentations in public documents, violation of evidence and abuse of authority position.
6- José Alberto ¨el fino¨ Palacios (former member of the Argentine Federal Police). He is accused of aiding and abetting, abuse of authority, and violation of evidence.
7- Juan Carlos Anchézar (former Deputy Secretary of Intelligence). He is accused of aiding and abetting, abuse of authority, and misrepresentations in public documents.
8- Carlos Antonio Castañeda (former member of the Argentine Federal Police). He is accused of aiding and abetting, abuse of authority, violation of evidence, and misrepresentations in public documents.
A group of clerks of Galeano and Mr. Carlos Corach, whose acquittal granted by Judge Lijo was overturned by the Appellate Court, are still awaiting investigation.
It is both curious and remarkable that, just when the oral and public trial for aiding and abetting is finally about to begin -after being long demanded by the general public and the relatives of the victims-, the tables should be turned against the Government that has done the most for the investigation of the bombing, not only by declassifying files, but also by lifting restrictions to receive statements by intelligence agents and allocating human and financial resources as had never before been allocated to the investigation. In addition, unprecedented complaints, presentations and declarations have been submitted at the international level and before the UN – something no other President had done before.
I insist, it is curious and remarkable that, 21 years later, we should be accused of cover-up for trying to receive the statement of the accused Iranian citizens under an International Treaty sanctioned by a law passed by the Argentine Congress.
I think this is too much. A law cannot be infringed with the approval of Congress. A law cannot be infringed when the aim is to receive the declarations of those accused, especially when this is the only way in which the case can come out of a 21-year-old stagnation and lack of progress. Have we already forgotten that, in compliance with the red alerts of our Government against the accused Iranian citizens, Interpol arrested former Iranian Ambassador to Argentina Heidi Soleimanpour in London, and the British Judiciary set him free for lack of evidence, charging Argentina USD 25,000 by way of compensation?
I could make reference to the recent declarations of the former Secretary General of Interpol who was involved during the entire phase of red alerts, or to the arrest orders, or the Legal Department that issued an opinion on the Memorandum, stating that it was conducive to the discovery of the truth behind the bombing.
However, I think what is important is to note that the same actions deployed during the main proceedings 21 years ago are being implemented now with this second trial – diversion, lies, cover-up, confusion. Before, tape recordings that proved that SIDE was aware of the preparations for the bombing «disappeared.» Today, tape recordings of figures who publicly support Iran «appear,» when it is not even necessary to tap phones in order to know what they do or think. All that is needed is to turn on the radio and listen to them, or watch TV, or read the newspapers.
Here is where questions begin:
Who ordered prosecutor Nisman to come back to Argentina on 12 January, even leaving his young daughter alone at Barajas airport, cutting his family vacation short and interrupting his leave from work, which had started on 1 January and should have finished after 20 January?
Can anyone believe that a person who had such a serious institutional accusation against the President, her Foreign Minister —who professes the Jewish faith, is Jewish— or against the Secretary-General of a youth organization (who, when the bombings took place, was in the last year of secondary school), went on holiday and suddenly interrupted his holidays to file, during court holidays and without notifying the Judge hearing the case, an accusation containing 350 pages which he clearly must have had ready beforehand?
Or could it be that someone handed it to him on the day he came back? Which, by some odd coincidence, was the day after the march in France against the terrorist attacks in Paris.
Is it also a coincidence that on the same day, the 12th, when the prosecutor unexpectedly returned from Paris, Clarín newspaper published the headline "Más de 4 millones de pie contra el terror en Francia" (Over 4 million people stand against terror in France)?
Is it a coincidence that on the next day, Tuesday 13, almost in sequence, the front page of that newspaper published the following headline "Timerman recibió orden de no asistir a la gran marcha en París" (Timerman was ordered not to attend the massive march in Paris)? A headline that was refuted by the presence of the Foreign Minister and our Ambassador at the march.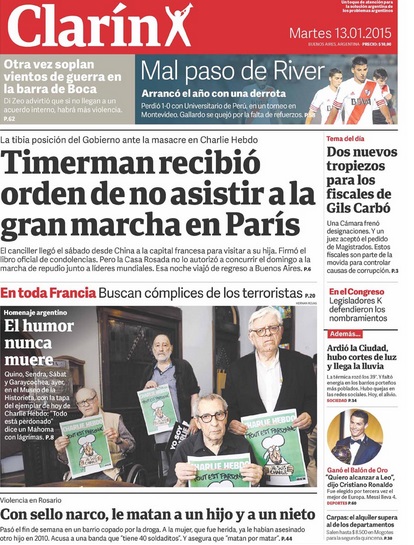 Is it a coincidence that on Wednesday 14 the prosecutor submitted his (?) 350-page brief without notifying Judge Canicoba Corral, who hears the main case, and sent it directly to Judge Lijo? Yes, that is the same judge who acquitted Corach of cover-up.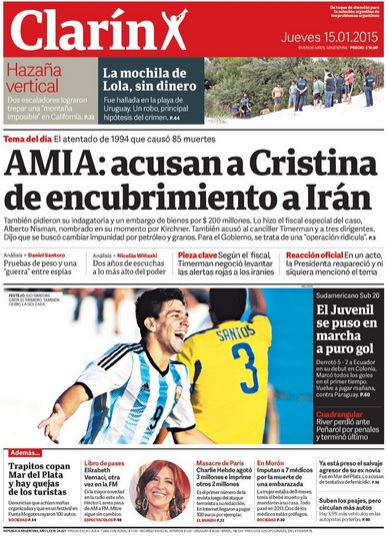 Is it a coincidence that the 3rd front page of the Clarín newspaper, in sequence, covers precisely this situation?
How can they say that the prosecutor came back because he feared that the Attorney General might remove him from his position if Nisman himself admitted, on –of all channels- TN (a cable channel belonging to the monopolistic media group and a fierce detractor of the Attorney General's Office) that (Attorney General) Gils Carbó called him to offer more protection and ask if he needed more officers for his security detail.
As I said at the beginning of this letter: these are questions that the courts MUST investigate, along with the fact that it was an employee of the prosecutor's office who provided, on Saturday, the calibre 22 pistol that caused the prosecutor's death. Was it for self-defence? A calibre 22 pistol? Even though the prosecutor lived in the Le Parc Tower in Puerto Madero, with intelligent surveillance systems, access codes, camera monitoring and the constant presence of the Argentine Coast Guard, as well as the personal protection provided by 10 agents of the Argentine Federal Police?
Today, more than ever, we cannot allow the same thing to happen with the trial for aiding and abetting as with the main proceedings. Because the perpetrators of the bombings will be found when we know who the aiders and abettors were. Because crimes know no reasons, but only motives and, in Argentina, we still need to explain the most obvious and simple things.
I believe that we, the Argentine people, deserve not to be intellectually underestimated, especially when 85 victims and their relatives still await justice after 21 years.
Cristina Fernández de Kirchner
President of the Argentine Republic